Boats and fishing
To fish in Glaskogen, the Glaskogen card and a fishing card is required. The Glaskogen Fishing Card is the result of a cooperation between the Glaskogen foundation, Stora Enso AB and the fishing organizations in Hillringsberg, Järnsjön, Stora Bör, Stora Gla, Sölje and Övre Gla.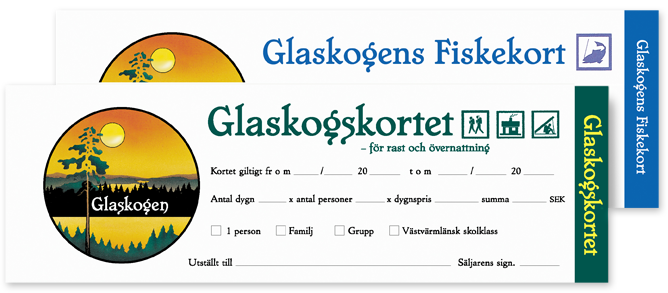 The fishing card is valid for some 80 lakes and tarns in and around Glaskogen Nature Reserve. Fishing in running water courses is however prohibited.
---
Glaskogen card – nature reserve permit
When using the facilities of Glaskogen a visitor's card, "the Glaskogen card", is required. The entire amount paid for the card will go to maintaining the area.
Please enter the name of the card holder – then push the button "add to cart"- in the next step you choose how many nights you are staying and you´ll see the amount to pay. We send the card with email or with post if you do not have an email address.
---
Fish stocks
You can catch anything from perch, pike, and pike-perch to salmon, salmon trout, char and whitefish. The use of fly, spinner, angling and baited net is allowed. In the lakes within the Glaskogen reserve the private landowners have the right to outsource nets, fish traps and osier baskets. It is not allowed to touch these!
During the last years, the fishing organizations have been working very hard to strengthen the stocks of fish. This has been achieved on the one hand through the restoration of rivers and streams previously used for log driving, on the other hand through the creation of hiding places in the water for the fish.
Why not make a visit to Glaskogen in the winter? During the last years the ices have been very nice, suitable for jig fishing and other winter activities such as long-distance skating and skiing.
Boat and fishing equipment
In Lenungshammar, fishing equipment can be bought for those who want to try their luck in fishing. A boat is more or less necessary to go fishing in the lakes Stora and Övre Gla, so why not rent one of our rowing boats?
Boat rental
6 H: 250 SEK
24 H: 400 SEK
1 week: 2 000 SEK
Life-jackets are included in the price. You can rent a boat from 1 of May.

---
Contact and reservations
Telephone +46-570-440 70
glaskogen@arvika.se
---
Special service
At the lake Lilla Rämmingen in the southern part of Glaskogen, a fishing bridge for disabled people has been built. Next to the bridge there is a wind shelter, a fireplace and dry closet.